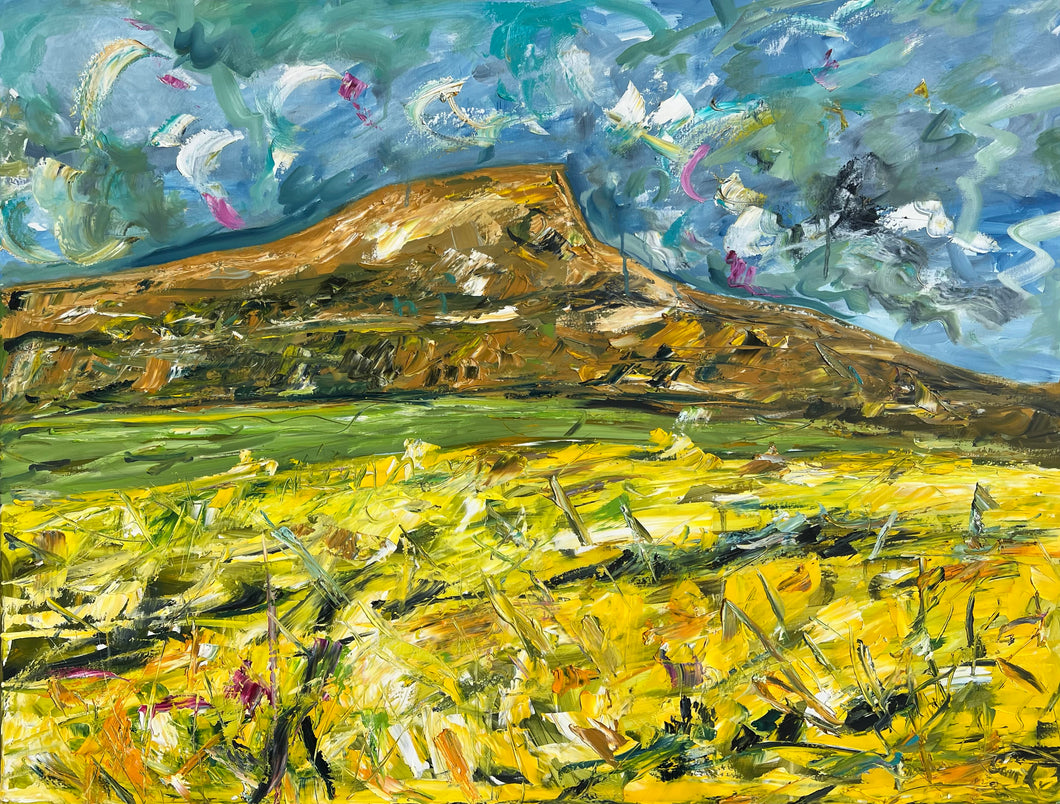 Radiant Majesty ..Roseberry Topping in Spring -Landscape Painting
Regular price $1,927.00 Sale
"Radiant Majesty" captures the breathtaking beauty of Roseberry Topping, a distinct landmark in the North York Moors, against the vibrant backdrop of a sprawling rape field. Painted with a palette knife, this artwork embraces the dynamic texture and bold strokes that bring the scene to life.
The painting portrays a majestic view of Roseberry Topping, a towering hill with its distinct conical shape, dominating the horizon. Its slopes are cloaked in a tapestry of lush green vegetation, dotted with patches of golden yellow where the sunlight bathes the landscape. The rocky outcrops and crevices on the hill's surface are depicted through energetic strokes and impasto techniques, lending an expressive and rugged quality to the composition.
In the foreground, an expansive field of vibrant yellow rape flowers spreads across the canvas. The palette knife strokes employed here create a textured surface, capturing the tactile essence of the flowers' petals and the roughness of the foliage. The sunlight casts a warm glow upon the field, heightening the contrast between the vivid yellow and the deep blue of the sky above.
The sky itself is a spectacle to behold. With hues ranging from a serene light blue near the horizon to a rich cerulean at its zenith, it creates a sense of depth and vastness. Fluffy white clouds dance across the heavens, their presence hinted at through delicate strokes and subtle layering, adding an element of movement to the otherwise static scene.
In "Radiant Majesty," the use of a palette knife not only lends texture but also adds an emotional intensity to the painting. The thick, bold strokes and the tactile quality of the artwork evoke a sense of energy and spontaneity, allowing the viewer to feel the breeze, hear the rustle of the flowers, and experience the grandeur of the landscape.
Overall, "Radiant Majesty" is a captivating portrayal of Roseberry Topping and its surrounding natural beauty. Through the skilled application of a palette knife, the painting invites viewers to immerse themselves in the tactile and visually stunning landscape, forging a connection with the serene splendor of the North York Moors.
Oil on Canvas
Painting size:H76 x W102cm
Signed on the front
Comes with certificate of authenticity signed by the artist
Shipped on a registered/tracked service
This painting is unframed. Price for framed painting available on request